Updated: Jan 1, 2020
It's the time for jingle bells and holiday cheer. Though the kids are happy and jolly and life seems so merry and bright... me? You can call me the Grinch.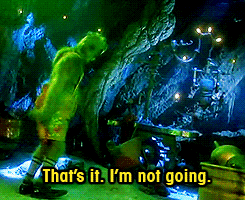 As years have come, the holidays just don't seem the same. There's no sparkle, no pop. Unfortunately, the magical feeling of the holiday season now brings an unsettling feeling. When I hear "holiday" spending money, family drama, conflicting feelings and loneliness fill my psyche. This ensues immediate sulking and Youtubing for hours.
One of the reasons the holidays bring unwarranted stress is because of the travel. This year, my boyfriend and I moved to Atlanta. On top of that we welcomed our pup Lola to the family. The drive from ATL to Richmond is about 7.5 hours and to fly a plane ticket is usually $250. When we fly we have to board Lola and for 4 days it costs about $250. When we drive, it's just a looong trip. I hate traveling at night because 4 eyes over here can't see a thing, and as much as we plan to get up at sun rise and drive for the day, it seems that never happens.
On top of that, whatever method of travel we take, I never have my car. I have to be chauffeured around Richmond and wait at the hands of everyone else's schedules to do what I want to do.
Now don't get me wrong, I love my family. Just in small doses for a controlled amount of time.
Background Info:
My little family consists of my mom and my sister and I. My dad and I talk, but the three of them have an… interesting relationship.
Since I was little I've always tried to mend situations between my family. My goal was to make everyone happy enough to spend an hour together in one room.
Though they are all in Richmond, even though im in Atlanta, one person will call me to ask why the other doesn't call them.
Though I didn't mind being the family mediator, it does become mentally draining. To be the glue which holds everyone together can become very heavy.
In 2016, we lost my Aunt to skin cancer. She was the only living family my mom had in Richmond and the only family member I was able to call up to go hang out. Aunt Celeste was a party animal, so fun and full of life. With her passing, a huge part of my family was gone.
The dynamic has always been interesting with my fathers side of the family. I think the older I grew, the more I picked up on. Being that my paren